Features
Quiet, Spacious & Serene
Secluded Dock with 64 Spacious Slips
Minimal Wave Action
Easy Access to the Intra-Coastal Waterway
See All Features
Newsletter
Get free e-mail updates on what is happening with the Harbourage Yacht Club when sign up for our newsletter.
Join Newsletter
Marina

Boat Dock
& Slip Rentals

The club and marina setting on the shores of Dolphin Bay, a Panama City Beach, Fl gated community, makes an ideal location for water lovers and boaters alike.
Marina Overview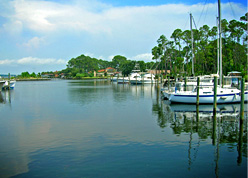 The Marina is tucked away in a secluded inlet between St. Andrews Bay, and West Bay. This allows for privacy, but also convenience to the entire Bay, and Gulf of Mexico. In fact, the Gulf of Mexico is just a short 15 minute trip from the Dock, and Boat Slips.
The minimal wave action, spacious slips and quiet surroundings make preparing for your day on the water, just as enjoyable as cruising along on the water itself.
Request Info
Benefits of a Gated Community
The Dolphin Bay, a Private Waterfront Community, hosts The Harbourage Yacht Club Marina. This gated community features beautiful landscapes, security and a friendly neighborhood.
All these exclusive features ensure accessing your watercraft is fast, easy & safe.
Beautiful Docks, Boat Ramp & Boat Slips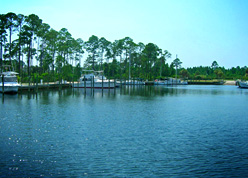 The docks are high quality, and made to last. We ensure they are safe and well maintained. The walkways are spacious, and pleasure to be on as you dock, or launch your watercraft.
Since the whole marina is private, and surrounded by beautiful trees, it feels as if you are your own private dock.
The boat ramp is unique, and was modeled after the Navy Base ramp. It features a 30' width and slope, and goes 60' into the water! It is perfect for large boats.
Marina Map, Layout & Available Slips
The Harbourage Yacht Club Marina is located in Beautiful Panama City Beach, Florida. The Panhandle of Florida is boaters paradise featuring sugar white sand and emerald green waters.
Available Slip List
Marina View
Satellite View
Located on the St. Andrews Bay Marina, just North of the Hathaway Bridge.

800 Dolphin Harbour Dr.
Panama City Beach, FL 32407